5 Tools to Use in the Reputation Management Industry (and more we just added!)
Updated April 2020*
There are many tools to use in the Reputation Management Industry. You will find that these tools can improve your personal or corporate reputation for the better.
We have gathered some of the most beneficial tools to use in the Reputation Management Industry that you should look into.
When we talk about internet reputation management, we mean paying heed to what people are saying about your company and your brand over the internet. You will be surprised to know that many free tools are available over the internet that can help you monitor your online reputation of your company or brand.
Here, our team of Reputation Repair Consultants share the 5 Tools to Use in the Reputation Management Industry.
Tools to Use in the Reputation Management Industry
1 – Trackur
This was created in 2008 and helps businesses by monitoring what is found about a person or business on Google or other major search engines that people may use. It is also helpful because it tracks social media sites as well. Another beneficial item that Trackur can help you with is that it helps to tell you if the people who are talking about you are actually influential to the industry. This can make a huge difference in determining the best steps to take to correct the problem. There are many different pricing structures that you can choose from as well as a free trial period to get to know about the plan as well.
2 – BrandsEye
BrandsEye was first developed in 2004 and they help with brand management. With this tool, you are able to receive notifications form a number of sources, SMS, RSS, and email, which will help you keep track of the things that are being said about your brand. This tool will also help you to gain analysis that will help you to become more competitive and will help you watch what your competition is doing online. When you sign up, you can pay for up to 10 phrases for the tool to monitor and there is also a free trial period as well.
3 – Google Alerts
This is a free tool that is pretty awesome when it comes to monitoring your online reputation. It will help you to monitor the results that are being pulled from the web as well as news regarding specific keywords. They will send you updates through your email as they occur. This is a tool that many businesses use to help learn more about what the competition is doing. One tip that you should use for this tool is to make sure that you set up exact keyword searches. To do this put a plus sign in front of the name of the keyword that you are selecting to track.
4 – Alterian
This tool will help you to determine what people are saying about your brand. One of the main benefits of this tool is that you will then be able to interact with them directly from the interface of Alterian. There are also very in depth reports that are analytical and available according to a number of factors, including language, emotions, countries, and demographics. In addition to these benefits, you will also be able to enjoy training options that will help you to learn more about how to use Alterian and the other important tools that have been developed as well through the site.
5 – Brandwatch
This was started in 2007 and the home office is located in the United Kingdom. You will be able to enjoy unlimited users through this tools as well as analysis that are available in 20 different languages. In addition to this, an account manager will be assigned that will allow you to easily make changes to your preferences. With this tool, you will be able to monitor brand mentions and certain keywords on all of the major social media websites. This, however, is the most expensive tool of this top five list, so be prepared to pay extra if you go with this option.
Tools to Use in the Reputation Management Industry
There are many different tools that you can use to monitor your reputation and track what others are saying about you. Our team of experts believes these are the best 5 Tools to Use in the Reputation Management Industry.  The key is to make sure that you are monitoring your online presence and taking a proactive role in trying to protect it. Take these 5 Tools to Use in the Reputation Management Industry and seep on them.  They are life savers.
ADDITIONAL TOOLS UPDATED 05/10/2016
More tools to Use in the Reputation Management Industry! 
Here is the list of best and free tools.
1. TweetAlarm
As per the recent estimates, there are over 5000 tweets that are shared in every second and there are chances that some of them might be related to your company or brand. All you have to do is to get this TweetAlarm tool activated and all the tweets will be scanned for your brand or company name. You can save these tweets, analyze them later, and find out what people are saying about your company.
2. Social Mention
Social Mention is another such free tool that can help you to monitor thousands of mentions that have been made related to your brand over the internet. Another best thing about Social Mention is that you can even monitor your internet reputation through conversations that are happening over the internet which are related to your brand or company.
4. Pin Alerts
As the Pinterest is becoming popular with each passing day and Pin alerts tool help you to monitor this platform. With the help of Pin alerts, you can get emails directly into your mailbox whenever a new pin comes up.
5. Image Raider
Image Raider is another such amazing tool that helps you to monitor the pictures that are posted over the internet related to your brand or company. The Automated reverse image search feature from Image raider helps you to see the websites that has pictures related to your brand in distorted manner. There are people who steal your exclusive pictures and Image Raider helps you to track such people also over the internet.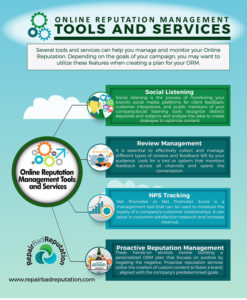 2020 Updates!
Radian6: With Salesforce, Radian6 can be used to track mentions of brand names and then use that data for sales campaigns.
Mention: Mention is a social monitoring tool that provides data and analytics from around the web.
TalkWalker: Talkwalker is another monitoring tool that allows you to track your name or brand as well as industries and other topics.
Brand24: Brand24 gives you access to social mentions across social, news, blogs, reviews, and forums all in one place.
Critical Mention: Critical Mention is a media tracker that allows you to also track your earned media and "understand the value of your coverage."
All the above mentioned tools are completely free and are easily available over the internet monitor your online reputation for your brand or company in a big way.
In case you are planning to hire an online reputation firm to take care of your company's or brand's reputation then you can contact us anytime as…
We make full use of all the above-mentioned tools.
 Moreover, we always try to restore the online reputation of your company or brand in a least possible time.