The Benefits of a Positive Online Presence 2019 – Updated for 2020!
In 2020, a person's identity is undeniably intertwined with their online presence. Even those who intentionally stay quiet on social media can't avoid having a digital footprint. Every piece of information about us on the internet contributes to our overall online reputation. This digital brand includes posts, comments, search results, and even actions taken on websites. While a negative online presence can have adverse effects, a positive online presence in 2020 can significantly benefit your life. By embracing the power of your digital reputation, you can positively impact both your professional and personal experiences.
We Are Social and Hootsuite's Global Digital report revealed that internet users are growing by an average of more than one million new users every day. As the number of internet users increases, the importance of our online reputation continues to grow. According to the report, the number of people using the internet has surged over the past year, with more than one million people coming online for the first time each day since January 2018.
How can an individual use this surge in internet usage to their advantage? By consciously building a positive online presence, one can take control of the way they are seen online. The benefits of a strong digital brand can improve your life in several ways.
Here are the latest Online Presence Statistics from 2020:
The latest statistics show that influence of a person's online presence is becoming more prevalent each day.
There are now 4.54 billion internet users around the world.

This 298 million more new users than in January 2019.

There are now 3.80 billion social media users worldwide as of January 2020.

This number increased by more than 9 percent since January 2019.

Over 5.19 billion people around the world now use cell phones, with numbers up by 124 million in the past year.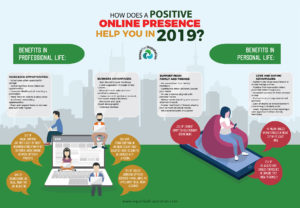 Benefits of a Positive Online Presence – Professional Life:
College Admissions:
The benefits of a strong online presence are apparent early in life. High schoolers with a positive image online have an advantage when applying for college. 35% of college admissions officers reported having looked at applicants' social media accounts. A negative impression can hurt your chances of being accepted, but positive information can actually increase a student's chances of getting into the school of their choice.
Job Opportunities:
According to a national survey of hiring managers and human resource professionals, 84% of organizations use social media for job recruiting. Remember, everything you post online can play a role in building your overall reputation. In a competitive job market, any advantage counts.
Promotions and Pay Raises:
Managers continually monitor employees' online presence. 48% of employers report that they use social media to check up on current employees. Of those 48 percent, 10 percent look at employees social accounts daily. 34% of employers have come across negative information online that caused them to reprimand or fire an employee. But an individual with a positive online reputation is more likely to be promoted or receive a pay raise.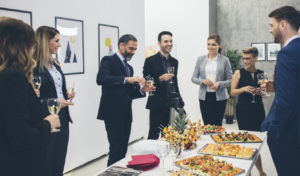 Networking Opportunities:
Having a positive online reputation can increase trust and respect from co-workers and authority figures. When your peers look you up online, what they see can affect the way they choose to interact with you. By putting your best foot forward with your online presence, you open yourself up to new situations and better opportunities.
Business Advantages:
A positive online presence can impact business owners in many ways. Entrepreneurs with a resilient digital footprint experience higher search engine rankings, client acquisition through online reviews, and increased traffic. 53% of online shoppers are most likely to trust recommendations from other customers online when choosing between different products, and 56% have found something in an online search that solidified their decision to do business with a person. An impressive presence online can therefore directly increase revenue.
Benefits of a Positive Online Presence – Personal Life:
Support from Family and Friends:
Your friends and family are your most significant support system. Despite their unconditional love, their opinions can still be affected by what they see or read about you online. 75% of US adults have Googled themselves or someone they know personally. In 2020, significant others, friends, and children can easily search the internet. Positive information online can create good impressions and improve personal relationships.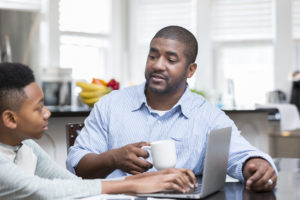 Dating Advantages:
In the past, the majority of people met their significant others in social situations, in the office, or through chance meetings. In the time of the internet, many people are finding love online. In 2019, 49 million singles dabbled in online dating at least once and 20% of current committed relationships began online. Having a positive online presence can significantly improve your dating experience.
First, if your personal brand is honest and specific, your online dating profiles will be authentic and attractive to the people you are hoping to meet. A positive online presence also creates an excellent first impression when a date Googles your name. The search results seen with a strong digital footprint can increase your chances of securing dates through online apps. Later on, in established partnerships, a positive online presence increases trust and promotes open communication.
Personal Confidence and Sense of Self:
One of the most beneficial results of a positive online presence is increased confidence and sense of self. The process of clarifying and developing a personal brand can be empowering and revealing. When individuals clean up their online reputation, they often find a strong identity. Changing the way other's view your digital footprint can change your personal perspective. When you begin to feel good about the way you look online, you begin to feel good about yourself in return.
How do I create a positive online presence in 2020?
It's clear that having a positive online presence can benefit your life in many ways. But, how do you build a robust digital brand that will improve your personal and professional endeavors? If you're looking to build your personal brand and online reputation, start with these steps.
1. Define your goals.
Look at the areas that a positive reputation could benefit, and decide which are the most important to you. Your long term goals will affect the way you sculpt your personal brand. What are you hoping to accomplish? You may want to earn a promotion, impress potential dates, or increase networking opportunities. While these are all benefits of a positive online reputation, being focused will help you create an image that is specific to your intentions.
2. Be specific.
When you are narrowing in on the message you want to convey online, get even more specific. Powerful personal brands carve out their own space in their market. When you know who you are hoping to attract or impress, you can market to them more successfully. Developing a focused personal brand will increase your chances of achieving your goals.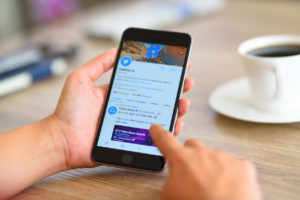 3. Authentic is better than impressive.
While you want your online image to be impressive, you don't want to fake it. As you build your online presence, make sure to be honest about who you are. An authentic brand will serve you well. If you create false information or claims, the data could end up negatively affecting you. Real effects come from a genuine brand. Your online reputation should reflect who you are. Everyone has unique talents – you can spotlight your strengths without pretending.
4. Know that it won't be easy, but it can be fun.
Even individuals with a pristine reputation can hit reputation roadblocks. There are some elements of online reputation that are out of your control. Shining and defending your online presence will be a lifelong endeavor. It may not be simple or easy, but growing your personal brand can be fun. Embrace the process of creating a positive online presence, and you will enjoy the journey. You can use your creativity and sense of self to grow your legacy. There is nothing more personal than your reputation – make it a personal priority. When you reap the benefits of a positive online presence, it will be worth the effort.