4 Types of Brand Messages to Reach Your Target Demographic
Understanding the many elements of brand messaging can feel like an overwhelming task. Whether you are an established corporation, or an individual looking to market your services, using the appropriate brand messages to reach your target demographic is essential. To engage your core audience with brand messages, you must first establish your brand. Then, you can break down ways to capture their attention. When looking at brand messaging in the big picture, the process can feel difficult to tackle. Repair Bad Reputation has broken brand messages down into four categories to help you understand the avenues to reach your market. 
Statistics show that having a strong reputation online can increase your probability of having a successful business, finding a job, or even getting promotion. A strong reputation can be built with a well designed and clearly defined brand. Branding is put into action by using messages to interact with your intended audience. If you haven't established your brand that is the first step in the process. If you have created a brand you are confident in, the next step is using brand messages to connect with your target demographic. 
There are 4 types of brand messages to reach your target demographic: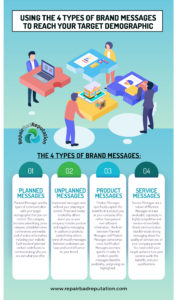 1. Planned Messages
Planned Messages are the types of communication with your target demographic that you can control. This category includes advertising, press releases, scheduled news conferences and media, and all online information, including your website. Each mode of planned contact contributes to communicating who you are and what you offer. 
When creating planned messages, it is important to consider the elements you defined while building your brand. Your company name, colors, tagline, symbols, and domain are all factors that will affect your messaging. A key part of messaging is your brand tone and personality. Consider what exactly you want to communicate to your demographic. Your brand tone is the voice you use to communicate with. Planned messages are in your control, so take the time to imagine how your brand messaging sounds to the reader or listener. The intended tone and personality that you identified in your brand building should reflect in your messages. 
2. Unplanned Messages
Unplanned messages exist without your planning or control. Press and media created by others about you or your company includes positive and negative messaging.  In addition to publicity controlled by others, word-of-mouth messages between customers can have a profound influence on your brand. While some unplanned messages can be positive, such as a raving review or an article that showcases your company, other unplanned messages can be harmful. 
While negative unplanned messages are created out of your control, you can manage their impact. Reputation monitoring, management, defense, and control techniques can be implemented to reduce the negative impact of unplanned messages. For example, unexpected negative press or media coverage can often be repressed to be less relevant in Google Search Results. This technique is often done using planned messaging by creating new positive content that is optimized.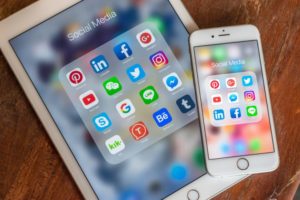 3. Product Messages
Product Messages specifically explain the benefits of a product you or your company offer, rather than general over-all brand information. The lines between Planned Messages and Product Messages sometimes cross, but Product Messages are more specific to sales. In product-specific messages, benefits, availability, and pricing are highlighted. 
Market research is often an important step in establishing product messaging. When building your Product Messages, consider the competition – what wording do they use to describe and market their products? If your target demographic has a history of purchasing similar products, pay close attention to their product descriptions, labels, and marketing. The goal is to use your brand messaging to communicate that your product is the superior choice. Listening to what they want, need, and respond well to can make product messaging an easier process. 
4. Service Messages
Service Messages are one of the best types of brand messages to reach your target demographic. They are a subset of Planned Messages and are invaluable, especially in highly competitive and service-driven fields. Brand communication should include strong messaging about the quality of services you or your company provide. You need to tell your target audience how your services work, the benefits, and your qualifications. 
One of the best way to build service messages is to tap into the core values of your brand. What are the benefits that you provide your target demographic? Knowing what you or your company care about, as well as the positive impact you are having on your core audience, will help you understand how to build services messages that represent your brand. 
Understanding the types of brand messages to reach your target demographic can give you the power to connect with those who matter most to your business. With the right brand messaging, you can attain new customers, and even turn loyal customers into ambassadors for your brand. Spending time on your brand messaging is an investment in time and energy, but the positive results you will see will be worth the effort.