Google Search is the New Background Check – How Your Online Reputation Affects Your Opportunities
Updated April 2020*
In 2020, a Google search is the new background check. Whether you know it or not, everyone from prospective employers to potential dates are Google searching your name to see what they might find. While traditional background checks still exist, Google searches often hold even more weight. Why? Information about a person concealed in a formal background check isn't usually seen by the general public, and therefore doesn't reflect as negatively on the companies or individuals who choose to interact with them. But, in the digital age, a person's identity is intertwined with their online presence. Public information (such as the first few pages of search results) doesn't just determine how you look. Negative information about you that is available to the general public also reflects on anyone who chooses to tie themselves to you. Whether it's a potential employer, business partner, or even a date, they're going to want to know your online reputation before associating themselves with you.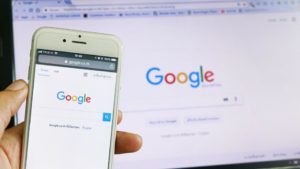 We all have an online presence. Even if you intentionally stay off social media or don't think there is any press about you or our business, you still can't avoid producing a digital footprint. Every piece of data about you online contributes to your overall online reputation. Your digital footprint includes posts, history, search results, comments and shares, and even actions taken on websites. While a Google Search that yields negative results can have adverse effects on your life, a positive digital reputation can significantly improve your life. By embracing the power of your Google Search results, you can positively affect both your professional and personal reputation.
2020 Google Search Statistics:
What Are They Looking For?
Negative Search Results
Criminal records
Provocative or sexually inappropriate content
Photos of videos of drinking or drug use
Discriminatory views related to race, religion, and gender
Information that supports that a job candidate lied about qualifications
Comments speaking negatively of friends, colleagues, or previous employers
Generally irresponsible online behavior
Positive Search Results 
A clean record
Positive press and articles
Websites that reflect job experience and qualifications
Photos of respectful content that accurately reflects the brand
Video content that demonstrates knowledge and expertise
Generally responsible online behavior
Impact of Negative Search Results
When hiring managers, admissions officers, and potential lovers Google Search your name, what are they looking for? It depends on the opportunity. But regardless of the circumstances, some search results don't flatter anyone. Search yourself on Google and see what surfaces on the first three pages. If any data may reflect negatively on you, an employer, or friends/family, you may want to suppress or remove the information.
Negative search results can include court or government records, such as arrest records, restraining orders, or unresolved tickets. Other red flags to remove from your digital footprint are provocative or sexually inappropriate content that may offend others. While you may have strong political opinions in real life, it is generally best to keep them to yourself online. Imagine you're up for a big promotion, but the CEO has opposite views. You may lose out on a big opportunity. It's always best to stay neutral online and save debates for select in-person discussions.
You'll want to remove photos that show heavy partying, drinking, or drug use. Social media posts that reflect discriminatory views related to gender, race, or religion can also have a negative impact. Generally, irresponsible behavior should be eliminated. Think of your online presence as a portfolio of your greatest accomplishments and positive highlights of your personal life. If you want to benefit from a positive online presence, there is no room for content that will offend someone searching your name. Be authentic to your brand, and be mindful.
When hiring managers or admissions officers search for candidates online, one of the most important things they look for is information that backs up the qualifications on their resume. If instead, they find content that supports that the person lied about their experience, there can be negative consequences. Be sure that your online presence matches your resume and qualifications. Inquirers also look for comments speaking negatively of friends, colleagues, or previous employers. Comments like these, though they may be justified, can make you look unstable or difficult to work with. When building your online presence, always be conscious of how you present your personal brand.
Impact of Positive Search Results
While many Google Search results can negatively affect your opportunities, positive search results that are aligned with your brand and highlight your strengths can improve your personal and professional life. The first thing people look for is any sign of a criminal record – so if you have a completely clean profile, you are already in the lead. A strong online presence also includes positive press and articles that showcase your accomplishments, passions, and work history. Photos and videos that demonstrate knowledge and expertise in your area of work can improve your chances of getting hired, securing a promotion, or impressing a new client. Spending the time to build content that elevates your brand can open up many opportunities. When you are sculpting your digital footprint, imagine the first three pages will be read by each person you meet. In reality, every person may not Google you upon introduction, but the people who do will most certainly create an impression of you based on the data.
It's clear that having a positive online presence can benefit your life in many ways. But, how do you build a robust digital brand that will improve your personal and professional endeavors? If you're looking to build your personal brand and online reputation, start with these steps.
How to Yield Positive Search Results on Google
1. Know Your Intentions
Examine the areas of your life that a positive reputation could benefit, and decide which you'd like to prioritize. Your long term goals will determine the approach you take to sculpting your online reputation. What are you hoping to accomplish? By being focused, you will be able to create a digital image that matches your intentions.
2. Be More Specific
When you are narrowing in on the message you want to convey online, get even more specific. Powerful personal brands carve out their own space in their market. When you know who you are hoping to attract or impress, you can market to them more successfully. Developing a focused personal brand will increase your chances of achieving your goals.
3. Authenticity is Essential
You want your online image to be impressive, but you don't want it to be inauthentic. As you build your online reputation, be honest about who you are. An authentic brand always serves you well. Real lasting effects come from a genuine brand. Your online reputation should feel accurate and honest, not showy. Everyone has unique strengths – you can spotlight your talents without making false claims.
4. Know it's a Long Game.
There are some aspects of online reputation that will be out of your control. Prepare yourself for a lifelong process – our world is becoming more dependent on technology by the day, and your reputation will only become further intertwined with your online identity as time passes. Accept that defending your online presence will be a long-game endeavor. But, don't let this scare you. Building a brand may not be simple, but growing your digital footprint intentionally can be enjoyable. If you embrace the journey of creating a positive online presence, and you can enjoy the process. Utilize your creativity and you can grow your legacy while also getting clear on your personal goals. There is nothing more valuable than your reputation, so make it a priority. When you experience the positive benefits of a clean online presence, it will make the effort worthwhile.