College Admissions: A High School Student's Online Reputation Matters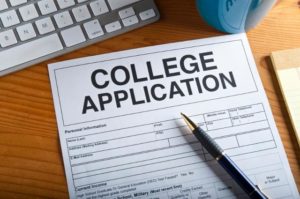 Having a positive online reputation is essential for high school students who are applying to college. When reviewing applications, colleges care about more than just a student's GPA and essay. Kaplan Test Prep recently surveyed more than 350 college admissions officers in the United States. So, how does a high school student's online reputation inform college admissions? When making decisions, Universities look at both the good and the bad.
Here's what they found:
– 35% of officers polled reported having looked at applicants' social media accounts to learn more about them.
– According to the Kaplan study, of the officers who look at social media, 25% of them look 'often.'
– 47% of officers who do check social media profiles say the practice positively affects how they view applicants.
Everything that an individual posts on social media shapes their overall online presence, and as a result, their reputation. A high school student's reputation must highlight the positives they would like colleges to see. For example, if a student's essay is about their various volunteer efforts, it would be beneficial for their social profiles to reflect that philanthropy. One officer in the release provided by Kaplan said, "One student described on Twitter that she facilitated an LGBTQ panel for her school, which wasn't in her application. This made us more interested in her overall and encouraged us to imagine how she would help out the community."
What is Considered Negative Content?
Negative posts on Instagram, Twitter, Facebook, and other social platforms are critical factors in shaping an online reputation. One picture of a student wasted after the Homecoming dance could ruin their chances of getting into their dream college. According to Kaplan, "officers that did check social media and saw negative posts – including the brandishing of weapons and "questionable language" – sometimes rescinded offers or became hesitant in accepting students."

How to Improve a High School Student's Online Reputation
Here are a few tips for developing an online presence that will support your college applications.
1. Google Search Your Name
Do a Google search of your name to see if there is any content that might impact college admissions. If anything negative or unflattering appears on the first two pages, a reputation management firm can assist you in repressing the information.
2. Focus on the Positive
Take advantage of the opportunity to show off your strengths in a creative way. Share positive content that makes you an attractive potential student!
2. Monitor Your Social Profiles
Review all your social media accounts regularly. If you catch a post that could be damaging to your reputation, untag yourself. Unsure if a piece of content is okay to post? Ask a parent or school counselor. If you're questioning if something is inappropriate, the chances are that it is.
3. Enlist Help from a Professional
A reputation specialist can help with reputation management for high school students by assessing their online presence. If your online reputation is weak, a consultant can help you develop a strategy for improving your presence before sending your college applications. It is essential that your online reputation repaired if you want to make the best impression with admissions officers.
How does your online reputation compare to other prospective students? Schedule a FREE assessment with one of our reputation consultants today.