How to Use Instagram For Reputation Management
You can enjoy many benefits from social media if you know how to use Instagram for reputation management. Online reputation refers to the way others see your brand in the digital world. Whether you are an individual or a business, you need to be careful about what you post, how you do it, and above all, how you handle negative feedback. Instagram is one of the most helpful (and potentially harmful) tools when it comes to building an online presence.
Why is social media management important, and how it could affect your brand's future?
Social media is not an option anymore (it hasn't been for a while). Any business that wants to succeed today needs to be present on at least some social networks. Modern consumers will research any business, brand, or product before they actually buy it. That's why it is important to use Instagram for Reputation Management. 
Statistics show that users rely on online reviews as much as they do on personal recommendations. If consumers find unappealing information about you online, they're more likely to pass on your brand.
Applying proper online reputation management techniques is vital to the success of your business. Negative feedback will always exist, especially when "haters" and "trolls" plague the internet. Therefore, managing feedback is crucial.  It's indispensable to hire a professional reputation management firm if you need help handling your online presence. Reputation management consultants are specialists in restoring or building your visibility online.
Why is Instagram so beneficial for your online reputation?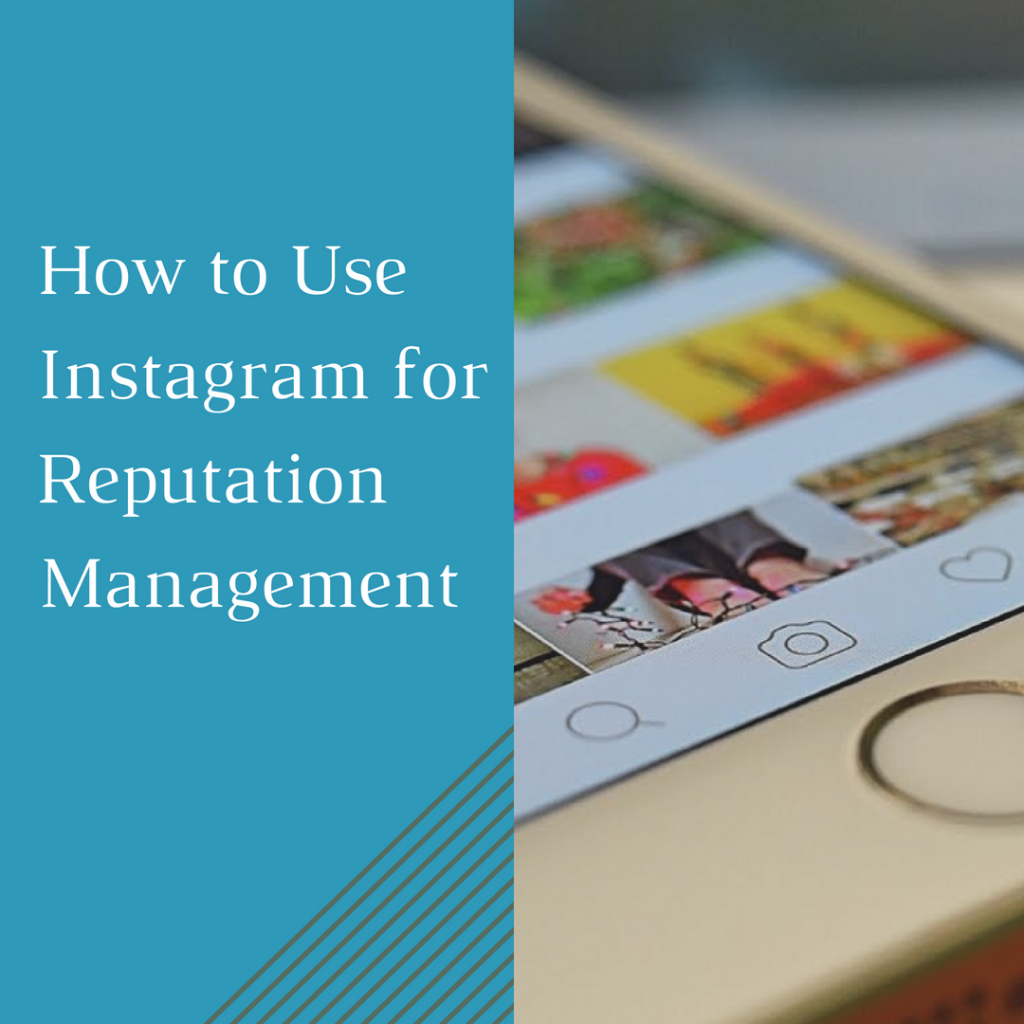 Instagram can be a great tool for business engagement. Instagram doesn't limit the reach of businesses posts, doesn't charge for visibility, and allows your followers to see 100% of your content.
Other reasons why Instagram is a great social network for building your online presence:
Users are more committed and engaged: statistics show that followers in this social network are more likely to actually share and interact with your content.
Mobile Use: Instagram is a smartphone app, and every day more people worldwide use their cell phones to interact with businesses. 
Hashtags draw new audiences: using hashtags allows you to build targeted followings of your general brand and specific products.
Making these Mistakes on Instagram Could Damage Your Reputation
According to a recent survey, certain behaviors on Instagram can be detrimental to your online reputation. Avoid posting:
Provocative or sexually inappropriate content
Photos of videos of drinking or drug use
Discriminatory views related to race, religion, and gender
Information that supports that a candidate lied about qualifications
Comments speaking negatively of friends, colleagues or previous employer
Ways to Improve Your Online Presence with Instagram:
Share positive news: Instagram should be a showcase for the positive press!
Determine your aesthetic: Having a consistent aesthetic will resonate with the right audience's psyche. 
Interact and reply in the comments: Instagram is a chance to make users a part of your brand's story!
Differentiate business from personal: Be picky. Any content that's not strictly related to your brand should be driven to your personal account and not your business account.
Be careful with your personal account: Even if you don't connect your personal account to your brand's profile, it still can affect your online presence. Be careful with what you post on your personal profile; users are likely to find it. 
Hire professionals: You can manage your business account to an extent. But, when you want to reach the next level, investing in advertising and hiring a reputation management firm is essential.
Interested in improving your online reputation, or repairing a bad reputation? Register for a FREE consultation with a reputation management specialist.