Misconceptions About Reputation Management
The internet has transformed the way we experience our lives on a daily basis. Technology has made processes like shopping, job hunting, and even dating more accessible online. But these advancements have also shifted the way we perceive other individuals, businesses, and experiences. Before everyone was online, most of us formed impressions of other people or corporations based only on our personal interactions with them. Now, in the age of social media and yelp reviews, we see each other through the lens of our online presence. 
This change has propelled Online Reputation Management to the forefront of the digital marketing, hospitality, and PR fields. In the last ten years, ORM has grown from an exclusive service only utilized by celebrities, to an industry accessible to everyone from business owners to individuals. Along the way, some common misconceptions about reputation management have developed. Many people are confused by what ORM consists of. Is it Public Relations? Does Online Reputation Management mean the same thing as SEO? Who can use it? We're here to tell you more about ORM and set the record straight.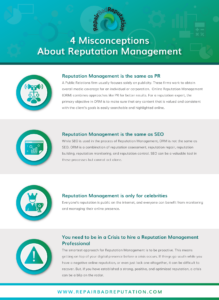 4 Misconceptions About Reputation Management

Reputation Management is the same as PR 
Many individuals assume Reputation Management is the same as Public Relations. This is common among misconceptions about reputation management. As you develop a plan to manage your online presence, it is essential that you know the distinctions between different tools and methods of creating and managing online content. 
A Public Relations firm usually focuses solely on publicity. These firms work to obtain overall media coverage for an individual or corporation. While positive press can be a powerful tool when building an online reputation, it isn't always effective on it's own. New media can contribute to the portfolio of you brand, but if people can't find it, it won't be useful. Without effective search engine optimization, the positive press you receive from PR might not show up in search results, or ever be seen at all. 
Online Reputation Management (ORM) combines approaches like PR for better results. For a reputation expert, the primary objective in ORM is to make sure that any content that is valued and consistent with the clients goals is easily searchable and highlighted online. After designing a client's online reputation campaign, a Reputation Management firm may work alongside a PR firms to create content that showcases the individual or company in a positive light. Some Reputation Management companies use an in-house press team. After content is created, ORM teams use a variety of techniques to ensure the publicity ranks consistently on the first pages of online search results. 
Reputation Management is the same as SEO 
While SEO is used in the process of Reputation Management, ORM is not the same as SEO. ORM is a combination of reputation assessment, reputation repair, reputation building, reputation monitoring, and reputation control. SEO can be a valuable tool in these processes, but cannot act alone. A well rounded Reputation Management plan works by evaluating an individual's current online reputation, building a strategy, suppressing harmful content in online search results (using tools like SEO), building content that aligns with a client's goals, monitoring the internet for new mentions or content, and controlling the overall brand image. 
With that said, research shows that websites on the first page of search results receive almost 95% of internet traffic. Therefore, successful online reputation management does involve using SEO to keep negative search results off those pages and out of sight for years to come.
Reputation Management is only for celebrities 
Many people believe that services like Online Reputation Management are only for celebrities. Repair Bad Reputation was founded in 2007, and was a pioneer in the industry of Reputation Management. At that time, it was true – the company almost exclusively handled the online reputations of the elite such as celebrities, musicians, and actors. As the online landscape grew over the years, the types of people who could benefit from services like reputation management expanded. Suddenly, everyone from CEO's to next door neighbors were showing interest in ORM. In 2007 and 2008, Facebook and Yelp launched mobile apps which lead to widespread personal use of social media and reviews. In 2010, 4.5 million crowd-sourced reviews had been shared on Yelp. By 2012, Facebook had over 1 Billion active users. Now, everyone's reputation is public on the internet, and everyone can benefit from monitoring and managing their online presence.
You need to be in a crisis to hire a Reputation Management professional
A common misconception about Reputation Management is that you should wait until you are dealing with a crisis to get help. Many people ignore their online reputation while things are going well. This can be dangerous. When a crisis arises, the information that exists about you or your company online creates the lens through which you are seen by the media, clients, and even personal relationships. 
The smartest approach for Reputation Management is to be proactive. This means getting on top of your digital presence before a crisis occurs. If things go south while you have a negative online reputation, or even just lack one altogether, it can be difficult to recover. But, if you have established a strong, positive, and optimized reputation, a crisis can be a blip on the radar.
When a crisis occurs, the first thing you should do is take a step back and look at the situation from an outside perspective. While there usually isn't a quick fix, a solid ORM strategy can save you or your brand. 
Still have questions or misconceptions about Reputation Management? You can contact Repair Bad Reputation for a free Reputation Management Consultation. Our reputation experts are happy to answer any questions you may have about the process of repairing, building, monitoring, and controlling online reputation.