How Do I Monitor When My Name is Being Used Online? – Monitor Your Personal Brand
**Updated March 2020
Whether you're a corporation or an individual, you can benefit from monitoring your personal brand online. It can be a challenge to track and monitor your name or brand in online search results if you are doing it manually. Thankfully, there are plenty of tools that can help you monitor your personal brand, your services, and your products. 
Many people are under the assumption that only big companies need to monitor their online presence. But actually, anyone can use online tools to keep track of their mentions on the internet. You don't need to work in PR to benefit from the knowledge of how and when you are being covered online. It is important to know about positive mentions of your brand or name, as well as negative comments about you or your company. This knowledge allows you know do damage control when needed, and proactively shape the overall perception of your brand. In this article, we will look at some free resources that can be used to effectively monitor your personal brand online, and how to use them.
The Best Tools to Monitor Your Personal Brand
Google Alerts: Google Alerts is free and can be used to set up keyword monitoring for your name, company name, or other phrases you'd like to monitor. 
Hootsuite:  Hootsuite can be used to monitor mentions on social media profiles. There is a free option that will allow you to monitor up to three social media profiles. 
Other Monitoring Programs: These programs are stand-alone softwares that work similar to Google Alerts but offer additional benefits. 

Radian6: With Salesforce, Radian6 can be used to track mentions of brand names and then use that data for sales campaigns. 
Mention: Mention is a social monitoring tool that provides data and analytics from around the web. 
TalkWalker: Talkwalker is another monitoring tool that allows you to track your name or brand as well as industries and other topics. 
Brand24: Brand24 gives you access to social mentions across social, news, blogs, reviews, and forums all in one place.
Critical Mention: Critical Mention is a media tracker that allows you to also track your earned media and "understand the value of your coverage."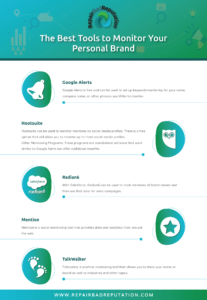 Google Alerts
If you already use Google Alerts, this may sound familiar. If you don't, it's time to start implementing the service into your reputation monitoring routine. Many individuals don't take advantage of this free tool, and it can greatly benefit your online reputation.
Google Alerts allows users to set up monitoring for keywords, phrases, or topics. With the tool, you can receive alerts via email daily or weekly. You can set up Google alerts for you name, your company names, job titles, or even a subject you are interested in monitoring. 
There are a few limitations to Google Alerts. The service cannot access information that is behind passwords, such as mentions on private social sites. You may need to use another service for these types of mentions to monitor your personal brand. 
How to set up Google Alerts:
Visit Google.com/alerts.
Log into a Google account. If you don't have one, you'll need to create one. 
In the blue box near the top of your browser, enter your name, brand, or phrase. 
You can either create a quick alert by clicking "Create Alert" or hit "Show Options" to customize.
If you choose to customize you can then choose how often you would like to receive updates and mentions. 
You can also choose sources. Automatic works best here, but you can also limit your sources to news sites, blogs, etc. If you choose automatic, Google will determine if a source is relevant.
You can also limit by region or language. For example, you can see mentions worldwide, but only from english sources, etc.  
You can also specify how many mentions you want Google to send you. This can filter out spam, and save you time. 
Last but not least, you can specify when and where you want your alerts sent. You can set up an RSS feed or have them delivered to your inbox. 
Hootsuite
For social media monitoring, the top tool for tracking mentions is Hootsuite. While the site does offer premium services, they also have a free option that allows users to monitor 3 social profiles without charge. This can be any social media account, such as a Twitter profile, Facebook page, Instagram account, etc. Not only can you track mentions of your name or company name, but you can also manage these profiles, post updates, provide responses, and more. 
Hootsuite, can be a really great tool for combining your social monitoring and other online efforts. This tool can help you identify your target audience, interact with them, and form relationships with your key demographic. By tracking your mentions, you can develop an understanding of your social network.  
How to Set up Hootsuite:
Visit www.hootsuite.com
Create an account. You can create a Hootsuite account with your Twitter, Facebook, or Google account. You can also create one with an email address. Making an account with up to 3 social platforms on HootSuite doesn't cost anything.
Add your preferred social networks. Hootsuite allows user to link their networks to one account, so you can see all your mentions and feeds in one window. You must log into each network though Hootsuite to connect. Hootsuite won't store or recieve any of your passwords.
Add streams. Users can click the "+Add Stream" button on the dashboard, or use the "Add a stream" tool. This can be just about any aspect of your social networks that you'd like to track.
Track your campaigns with the analytics tool. Hootsuite provides multiple tools for reporting that will allow you to monitor the performance of your social networks. Use these analytic tools to set up tracking of mentions by creating a custom report.  
When you create a custom report, you will be able to choose from a list of modules. Some modules are free for all users, but some require a Pro account or higher.