In the Pandemic, Your Digital Footprint Matters More Than Ever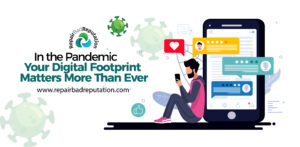 The COVID-19 pandemic has created an international crisis and impacted many aspects of our daily lives. By now, it is common knowledge that the virus has devastated our health system, changed our economy, and physically affected over 37 million people worldwide. But what you may not realize is that your online reputation and digital footprint matter more now than ever before. The entire world is now forced to do things they used to do physically on the internet – working, completing errands, and keeping up with social circles remotely. This renewed focus on the digital world has made it essential for both individuals and businesses to prioritize their online reputation. 
How Has The Pandemic Influenced Our Online Behavior?
The reality is that the "new normal" has changed the way the average person behaves and operates online. As companies work to minimize risk, many people are working from home for the very first time. Without the pressure of office surveillance, employees suddenly have more freedom to "browse" the web at leisure. In a more comfortable atmosphere, people are more likely to take a break to wander around Google, or do a quick online errand. 
Even those who aren't working from home are spending more time on the internet. Quarantine has increased many people's downtime, and they are filling that time with online activities. The average person is also spending more time on social media – there has been a major increase in the rate that the world is tweeting, watching videos, and sharing news articles. 
Algorithms are taking note of these increased interactions, and are constantly being updated to reflect them. Not only are algorithms changing, but reputation experts are finding that they're changing fast. These changing algorithms, along with heightened activity, have caused search result patterns to change dramatically over the last few months.
While we may not be conscious of it, these patterns are playing an enhanced role in our perception of the people and companies around us. With less social interaction and increased time online, consumers are depending on search results to make important decisions now more than ever. Whether you like it or not, your online reputation is now being considered. In the past you may have pretended your digital footprint didn't matter, but out of sight, out of mind is no longer an option. 
How Can One Protect Their Digital Reputation?
In order to protect your reputation, you need to first take stock of the current state of your digital footprint. From there, you can develop a course of action to improve or repair it if necessary. There are many ways to repair, rebuild, or refine your presence online. 
It's time to face it – the new emphasis on online reputation that has emerged during the COVID-19 pandemic is here to stay. Your internet presence will continue to greatly affect the way others interact with you or your business for years to come. It's never been more important to control your digital footprint – so get on-board now, and take charge of the way that you're viewed online.