Reputation Management for College Students – Why You May Struggle After Graduation
For college students hoping to enter the workforce, the importance of a positive online reputation cannot be overemphasized. When hiring recent graduates, employers take more than your resume into account. According to a national survey of hiring managers and human resource professionals, 70% of employers are using social media to screen candidates before hiring. Everything you post on social media plays a role in building your overall reputation. A college student's online reputation must reflect their strengths in order for them to rise to the top of the competitive job market. Reputation Management for college students is often overlooked until it is too late.
The content you post, like, and share on social media directly affects the way people perceive you. One unflattering party video or offensive joke can crumble your chances of landing your dream job.
Here are the statistics:
57% of employers are less likely to interview a candidate they can't find online

54% of employers have decided not to hire a candidate based on their social media profiles

Half of employers check current employee's social media profiles, over a third have reprimanded or fired an employee for inappropriate content

70% of employers use social media to screen candidates, up from 11 percent in 2006
What are they looking for?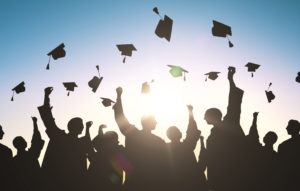 Employers are searching social media and search engines for a variety of information. Many are checking to see if the candidate has a professional online persona. Recruiters want to find information that supports that the candidate is qualified for the job, and will contribute to the overall reputation of the company. A hiring manager looks not only at what you post, but what other people post about you.
According to the survey, here are some behaviors that can be detrimental to a college student's online reputation:
Provocative or sexually inappropriate content
Photos of videos of drinking or drug use
Discriminatory views related to race, religion, and gender
Information that supports that a candidate lied about qualifications
Comments speaking negatively of friends, colleagues or previous employer
Clearly, your online reputation can either make or break your life after college. A post made "in good fun" could come back to haunt you.
Here are a few tips for developing an online reputation that will support your endeavors.

1. Google Search Your Name
Do a Google search of your name to see if there is anything that may damage your reputation. If anything incriminating appears on the first few pages, you may need to hire a reputation management firm to assist you in repressing the information.
2. Monitor Your Social Profiles
If you're debating whether something is appropriate to post, chances are it's not. Take the time to review all your social media accounts and monitor them for potentially harmful content. If you spot any content that might be damaging to your reputation, untag yourself. Fill your page with information that highlights your strengths!
3. Consult a Professional
A reputation specialist can help with reputation management for college students by assessing their online presence. If your online reputation is in need of repair, defense, or management, they can help you develop a strategy for moving forward. It is important that your reputation is handled before making an effort to enter the job market. Start now! It's easier to start early and proactively build a positive profile online during college than to have to repair a bad reputation later.
Want to see how your online reputation stacks up? Schedule a FREE assessment with one of our reputation consultants today.