Reputation Management for Day Care Centers
The majority of parents thoroughly research a Day Care center online before enrolling their children. For this reason, the online reputation of any childcare business has a particularly strong impact on its revenue. As the owner of a Day Care center, your reputation must be clean when parents search for information about your company. Not sure how to monitor your business's reputation? We've provided a few tips on reputation management for Day Care Centers that can get you started.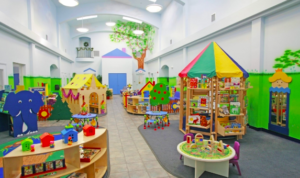 The reviews and testimonials parents find online for your Day Care center will determine how confident they are leaving you with their kids. No parent will hand their beloved children over to a company with predominantly negative reviews. Reputation management is an undeniably important part of your business. So, how can you effectively manage your online reputation?
Reputation Management for Day Care Centers – Tips for Building a Positive Reputation Online
1. Get Active on Social Media
Day Care owners often forget to use social media to reach their customers. Many social media platforms can be utilized by businesses to build an online presence.  Without active social media profiles, your company's reputation appears questionable.
You can quickly build trust and credibility with customers if you are engaging and responsive online. Start a dialogue with the parents who are current clients – is there anything you could do to improve their experience? You could share fun childcare ideas, take polls about the kids' preferences, or ask for direct feedback on specific facets of your business. Social media is supposed to be fun, so get creative! Facebook, Instagram, and Google+ are all examples of platforms that are popular with parents.
2. Request Reviews from Happy Clients

One of the most important considerations when choosing a Day Care is the number of positive reviews parents find on your profile. If you have regular clients that you have built an authentic relationship with, it is beneficial to your reputation to request an online review for feedback. Good reviews naturally create positive content about your brand online. Your goal should be to have outstanding reviews on your social platforms and review sites. These sites, along with the positive press, should fill the first two pages of any internet search regarding you or your Day Care center. If negative information about your business appears on these pages, you may need to enlist the help of a reputation management specialist.
3. Take Advantage of Reputation Management Services 
Proper reputation management requires serious time and effort. For some business owners, monitoring a reputation while also running a small business can be overwhelming. A professional reputation management firm can help you polish the online image of your Day Care center, so you can focus on what is important to you. If your reputation is in need of repair, the best course of action is to consult with a reputation expert.
Are you interested in developing a strategy to promote a positive image for your Day Care center?  Give Repair Bad Reputation a call – we would be happy to give you a FREE consultation!