3 Ways Reputation Management Can Help Your Business
A successful reputation management campaign involves the process of identifying, influencing, and monitoring how investors, clients, stakeholders, and the general public perceive your organization. Reputation management focuses on ensuring that the online image of a corporation is in line with its branding and goals. A positive reputation is essential to help your business grow.
Here are three ways effective Reputation Management can help your business:
1 – Increases Brand Awareness and Image
Effective reputation management streamlines branding to ensure that all online content is synonymous with a company or individuals message. It is important to develop consistency in your brand across all online markets. A successful reputation management firm can control the first two pages of any internet search regarding your product and services. This directly affects the public's first impression and image of your company.
2 – Increases Brand Trust and Credibility
Your brand's credibility is vital to your business. Reputation management can help you build trust in your brand. People often consider companies with a positive online reputation to be more reliable than those without a strong internet presence. It is key to adopt a top-notch reputation management strategy for reputation repair, reputation defense, and content management. Your aim should be to build up positive content online that nurtures a sense of trust in your clients.
3- Higher Sales Volume and Patronage
Potential customers research a variety of competitors online before becoming a patron. Those researching your company should only find what you want them to see – content that will influence them to make a purchase or sign up for a service. Although it isn't possible to erase negative press completely, it is possible to control how much damage negative content can do to your brand. When the first two pages of search results are filled with on-brand material, a positive reputation is built and sales increase. In this way, effective reputation management can directly boost your revenue.
How do Reputation Firms approach reputation building, reputation repair, and reputation management?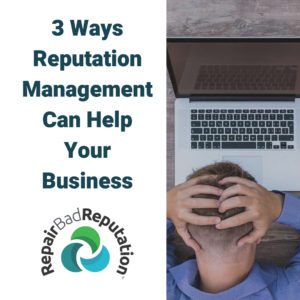 Experts like Repair Bad Reputation can:
Execute a sophisticated and aggressive counterattack to stop the damaging statements, and a methodical solution designed to defend the positive search results – preventing the negative content from resurfacing.
Design campaigns that maximize the positive message and minimize the sensational, volatile, and damaging information.
Create campaigns designed to educate the public on positive and real attributes.
Influence the media to focus on a reputation that best describes our clients.
Create a strategy that isolates you from the negative content resurfacing and protects you from future attacks.
Regardless of your industry, reputation management can help your business. If you are interested in learning more about Reputation Management services, schedule a free consultation today.