Three Life Hacks for Achieving Your Reputation Management Goals in 2019
In the first weeks of the New Year, our focus often turns to new beginnings. While goal setting is an essential activity for individuals and businesses year-round, January provides many of us with a fresh perspective and an opportunity to assess. Did you reach all of your Reputation Management goals in 2018? How can you improve your online presence in the coming year? It is vital to take the time to put a specific Reputation Management plan in place with actionable tasks and measurable goals.
Why 'Goals' and not 'Resolutions'?
We generally understand resolutions as a firm decision not to do something. Some reputation resolutions could technically be useful, such as a resolution "not to post any more inappropriate photos on Facebook." But, resolutions generally aren't proactive. Resolutions create a rule not to do something, but they usually don't create goals with actionable tasks. It would be more beneficial to change that reputation resolution into a reputation goal: "I will create a Facebook profile that acts as a personal portfolio and reflects my positive image as an individual/company." By setting several concrete reputation goals, you can create an actionable reputation management strategy, and set yourself up for success in 2019.
When developing a reputation management strategy, many people focus all of their energy on visualizing the outcome. They map out what they want their reputation to look like in the New Year, but forget to plan out how they will get there. Being as detailed as possible is imperative. You may be excited to aim big, but it is counterproductive to make general statements. Goals such as "I want my reputation to be amazing in 2019!" or "I want to rank on the top of Google this year!" will be difficult to measure, and therefore difficult to check off your list.
What does an 'amazing' reputation entail? Which specific search terms do you want to rank for, and in what positions? By getting clear on what you want to achieve, you not only can better visualize yourself accomplishing your goals but can also set actionable tasks to reach them.
Three Life-Hacks for Achieving your Reputation Management Goals in 2019:
1) Break Your Goals Down in a Timeline 
If you set a goal to achieve something vaguely by "next year" you very well may forget about it until next November rolls around.  Break down your 2019 goals into three sections: short-term, mid-term, and long-term goals. 
Short-term goals are goals that can be assessed month by month.
Mid-term goals can be evaluated quarterly or halfway through the year.
Long-term goals are things you would like to achieve by the end of 2019 (the big-picture items on your list).
By looking at your goals as a timeline, you can map out and prioritize a series of steps to get yourself there. Actionable goals will include many sub-goals (or checkpoints) for you to reach along the way. Give these sub-goals deadlines as well. Your 2019 timeline can act as a calendar for your Reputation Management goals, creating a clear picture of where you are along the journey to achieving them.
2) Be Specific (While Remaining Flexible)
It is essential that the goals you set are specific and measurable. A concrete goal focuses on particular results you want to achieve and sets a definite time frame in which to reach them. A successful reputation management goal should be both tangible and attainable. Ground your goals in a measurable figure, focusing on specific timeframes, numbers, and results. Otherwise, you may get off track and lose sight of your reputation management strategy altogether.
But, while it is vital to be specific, it is also important to leave room for adjustments. Uncontrollable circumstances or changes in your business throughout the year may require you to reevaluate your reputation management goals. Have a clear picture of what you want to achieve, but don't get tunnel vision and lose sight of your own best interests. An online reputation is an ever growing and changing element. As it alters course, you may need to adjust your strategy accordingly. Check in with your goals throughout the year to assess whether they are still in line with your initial intention.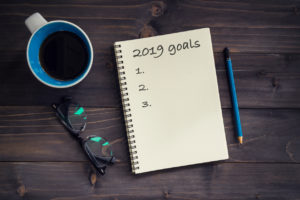 3) Stop and Consider the 'Why'
It's easy to set a goal without taking the time to think about why you want to achieve it. When developing your reputation management goals for 2019, take a moment to think about why you want to accomplish each item on your list. What is your intention? Are you setting the goal just because you feel you are 'supposed to'? Having more Twitter followers doesn't help you unless you know why you want them and what you will do to utilize them.
Every business and individual is unique, and therefore their most effective reputation management strategy will be different. Just because a friend, or a rival company, is using one reputation technique, doesn't mean that you need to set the same goals. Do the actions on your list line-up with your big-picture intentions for your reputation? A goal you wholeheartedly believe in is a goal you will achieve.
There is one common 'why' that unites most individuals and companies – revenue. You may choose to set a goal related to creating an online community via social media, or sharing your personal story with the world through your blog. But it is also honorable to admit that you want to make money this year. When you build your online reputation, you increase your capacity to generate more revenue. Whether you are individual looking for a higher paying job, or a business looking to boost your sales, improving your reputation in 2019 can lead to raking in some big bucks. Don't be ashamed to set financial goals as part of your reputation management strategy. After all, 2019 is the Year of the Pig in the Chinese zodiac – a year of "fortune and luck!" Just keep in mind, that luck won't put in the work to build your reputation for you.
Learn more about how to build your online reputation in the New Year with a free Reputation Management Assessment:  Call us now, 888-805-4121