The Online Reputation Trends That are Here to Stay for 2020
As we approach the holiday season and look toward the new year, we begin to examine the marketing and branding trends we witnessed in 2019. While some branding trends we have seen this year could be a phase, many have changed the game and are here to stay. From a surge in content creation to ever-shifting backlink strategies, we're taking a look at the trends that have taken over the digital marketing space this year. If you aren't already implementing these strategies, it's time to check in with your online reputation plan and kick it into high gear. 
1. Long-term and multifaceted strategies are here to stay.
The short term quick fixes for online reputation management that you may have once used are no longer effective. Old tricks for improving your ORM simply don't work in 2019. Google's credibility is dependent on their ability to serve the information that's best for the user – they aren't keen to let you fool them. AI is advancing, and Google is moving to further understand the needs of what a particular user is looking for online.
As the ability to find information online becomes more sophisticated and advanced, so does our need for a complex approach to ORM. As technology advances, our business strategies need to advance as well. Your plan of attack for online reputation needs to be robust, long-term, and multifaceted to succeed. One of the biggest online reputation trends as we move into 2020 is to build a solid online reputation management plan as well as a solid team to execute it. 
2. Backlinks are more important than ever.
If you don't know what backlink strategy is, you're already behind. Understanding the ever changing strategy for backlinks is a trend that will always be growing and changing – and it will always be important. As the algorithms are constantly being tweaked and adjusted to give the end user the best experience possible, you need to take that into account when building your backlink profile.
"No follow" algorithms have changed
This year, backlinking strategies have become more robust. When you're looking at backlinking the way Google looks at it, it's like co-signing for your website. In the past, sites had the option whether to put their authority behind a link or not. Some big sites had even had a blanketed strategy of not passing their authority, by labeling all links as "no follow". Now, Google has stated that they are paying attention to "no follow" links as well, and there is value in them.  
In September, Google evolved the "no follow link" attribute in addition to introducing other attributes that would further help Google understand the nature of links. As we finish out 2019 and move into the new year, these link attributes will be used as hints for Google, to help them understand which links they should ignore as ranking signals. Essentially, these types of links will no longer be excluded, as they had been in the past. Simply put, Google wants to give value, where value is due.
Backlinks need to be niche specific
All backlinks need to be pertinent to the end user experience. It is essential now that links are relevant to your subject. Properly utilized links are more about sites authentically linking to you for good content than just about trying to get backlinks. 
If your company has been using proper backlinking strategy all along, you may not need to change your methods. But if you have been avoiding backlinking all together, you should now consider adding it to your marketing plan.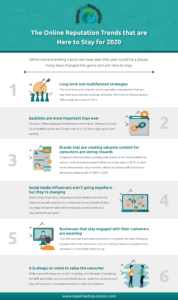 3. Brands that are creating valuable content for consumers are seeing rewards. 
Companies who have been growing their presence on creative platforms such as Youtube have increased traffic and driven sales in 2019. As audiences demand more visual content, videos and photos will continue to become an integral part of ORM in 2020. 
The trend for video content is moving away from sales pitches and ads, to more valuable and educational resources. By giving back to their consumer communities, brands are improving their online reputation and establishing their authority within their given market. How-to videos, tutorials, and entertaining material is rising to the top of search engine results and taking brands with them.
4. Social media influencers aren't going anywhere – but they're changing. 
Brand audiences are now aware that they are being marketed to be social media influencers. When followers see a single #sponsored post for a brand by their favorite influencer, they can assume they're seeing a paid advertisement. While 2018 was about flashy #ads, in 2019 the focus shifted to organic mentions. In 2020, the online reputation trends for influencers will continue to move toward further authenticity. 
This demand for authenticity has also shifted the brand influencer image. Unique and non-conforming brand influencers have come into style. Despite past trends, celebrities and the stereotypically "Instagram babe" ambassadors received less traction in 2019. Audiences are smart. They can see right through an influencer that is only in it for the money. In contrast, they are responding to real people: other customers who are in their same niche. Quirky and interesting personas are now dominating the market. "Real" is the new "filtered." 
When hiring influencers, companies are also finding that creating relationships with several micro-influencers is more beneficial than one mega-influencer (who will mention your product only as a requirement to get paid.) By nurturing an on-going relationship with the right influencers, businesses can find partners who are genuinely excited about their products. An influencer who actually loves a brand will organically mention it more often. These influencers have an engaged following that can tell the difference between a product posted out of obligation, and a product that actually aligns with their interests. The goal is to create honest brand advocates – not just influencers. 
5. Businesses that stay engaged with their customers are excelling.
53% of online shoppers are most likely to trust recommendations from other customers when choosing between different products, and 45% of people say they have found something online that made them decide not to do business with a person. There's no getting around it – the modern consumer base is increasingly paying attention to online content.
Over the last year, businesses continued to recognize the value of staying engaged with their consumers. Ensuring that you have an engaged online presence is a trend that is here to say. Many individuals and businesses think that if they don't exist online, that is a good thing. But just because you don't have a negative online presence doesn't mean that you have a positive one. When a crisis hits, the worst thing you can have is a lack of online reputation. Both individuals and businesses must have a handle on their online reputation in order to maintain control. 
In the new year, individuals will continue to see the adverse effects of a damaged reputation and the benefits of a positive brand presence. Congruent with the #TimesUp and #MeToo movements, putting a focus on positive brand building grew in 2019. Content creation, community engagement, and direct response are all methods of reputation management that will continue to rise as we move into 2020.
6. It is always on trend to value the consumer.
While there will always be trends in branding, and the style of marketing will shift and evolve, one principle holds strong – value the consumer, and they will value you. The modern consumer base is intelligent, resourceful, and appreciates a company that considers their needs. It can be easy to get distracted by flashy new design styles and the latest technological advances, but as you continue on your online journey into 2020, don't lose focus of the most important of the online reputation trends – the customer will value your reputation first, every time.